Deuces Wild Dragsters Hit The Track for 2023
8/30/2023
Gallatin, TN
Welcome to our 4th Double Dragster Build we dubbed "Deuces Wild"! Yes 4th! The first double build in 2015 was the beginning of something special that made me think twice about doing it again. Since then it's became an ongoing project every couple of years.
My Partner Lynn Ellison and I started a company 10 years ago and it continues to grow and evolve along with these builds, so I continue to cobrand the DragRaceResults.com dragsters with both with our Collector Tethers & Drag Race Solutions company colors.
Eddie Hollen Designs once again brought a concept to life and then I turned it over to my good friend Todd Zeller of Todd's Extreme Paint in Milan, Michigan with the project of making it real! As we lay out the build, lets see how close we can come to this picture dreamed up one weekend in late December 2022.
Once again, like all of our previous builds, the builds start off in Ohio at American Race Cars. After selling our last 2020 cars, my grand daughter "The Bean" who is only 3 was very confused as to why we didn't have any race cars in our shop. We had to explain to her that PaPa had to go get new ones. She said "Take Princess Repunzel with you PaPa and go get them" lol! I of course did what she said and sent her a snap shop upon arrival.
On a cool March day, Travis and Crew once again delivered a perfect pair of their 2023, 245 inch Single Shock Swingarm dragster chassis to begin our latest builds in what we hoped would be our lightest and quickest cars to date.
And so it began. With bodies delivered to Todd's Extreme Paint, a trailer full of parts and a laundry list of things to do and to think about on the 400 mile trip home, we began our 2023 Deuces Wild Double Dragster Build!
Once we go home it was literally one thing after another as everything needed done twice as you can imagine. We commissioned Darren Breaud at B&B Race Cars in Hohenwald, TN who is known for his award winning NHRA Super Stock and Drag Radial Cars to whip us out some "light weight" 4-link bars and brake rods to help trim some fat. Plus they look cool!
Like we have in all of our previous builds, we relied on Moser Engineering, who by far supports sportsman drag racing as a whole as much or more than any company out there for housings, axles and center sections. We used their MOSER M9 Housings fitted with 40 spline gun drilled Extreme Axles along with bolt through center sections to get the power to the back tires. This go round, we did install titanium drive studs for a little added weight savings.
Since the topic of "light weight" will continue to get thrown around in this article, we once again will rely on Altronics, Inc and their Powerlite 16v Lithium Batteries to pump the volts through these bad boys. With a 4 year warranty on their Pro Series Batteries and weighting in at a "whopping" 9 pounds, how could we go wrong!
It's been a long time since I'd wired a race car, but back in the day I really had the time and love for doing it. On this build I really wanted to take my crack at it again and felt I had the right mind set going into it to be able to do a clean and simple job. My goal was to make it neat, light and functionable and with some guidance, a Digital Delay Relay Board, Switch Panel and a shrink tube kit from Phil Smyda's Intensity Racing Products, I felt the end result was pretty good.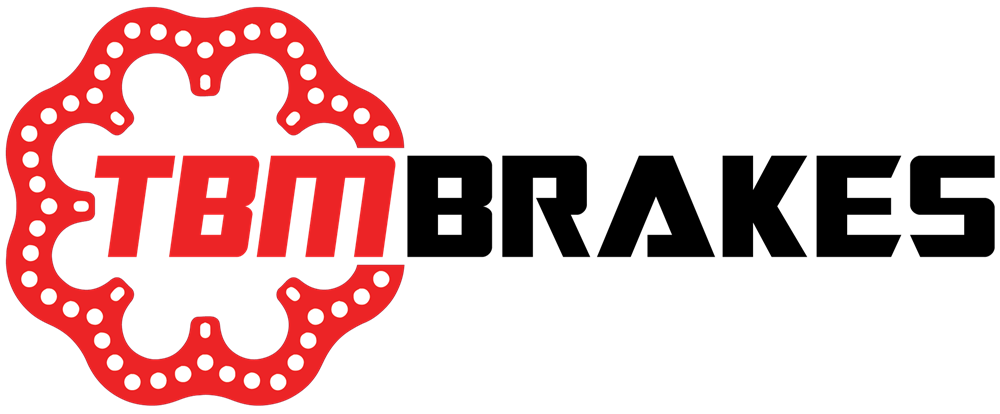 One of the "new" products we added this year to our build are the TBM Dual Caliper Racing Brakes which include their High Strength Zero Drag Calipers and their "revolutionary" Convoluted Rotors which are extremely light and stay flat.
Motion Race Works recently purchased TBM and are expanding their applications almost daily. This dual caliper application has been extremely impressive so far! Go check them out as I'm sure they have a brake kit to fit your application.
We have used Penske Racing Shocks now since 2015 on all of our dragsters and to say they have been an instrumental part of our program and how our cars perform on the track would be an understatement. The knowledge and support that Eric Davis brings every time I have a crazy idea is simply amazing. This new canister shock - spring combination has been spot on since we hit the track. I feel this will be the new "go to" package for fast dragsters in the near future.
Another "new" product on this year's builds are the front wheels from FTD Customs which include sealed ball bearings which also utilize a crush sleeve similar to motorcycle wheels or a center section which provide extremely free movement with a tight "no lash" feel. They are 100 percent made in the USA and available in many designs, black or chrome.
Hoosier Racing Tires have been on all of our race cars for over 30 years now. This is the 2nd year straight we have used the "new" C1550 Rear Racing Slick on our dragsters. If you haven't tried Hoosier's new design I urge you to give them a try. Much work has went into this tire and World Championships have been won, bringing it back to the forefront of fast dragsters in sportsman drag racing.
Above and throughout the car you will see we used stainless steel 12pt bolts, shouldered aircraft bolts and titanium bolts during this build. All of these can be purchased from our good friends at Specialty Fasteners. Give them a look if your doing a build, want to replace your bead lock bolts or just looking for something special, odds are they have it.
More "light weight" parts chosen included Aluminum Drive Shafts from Wiles Racing Driveshafts out of Paris, Tennesse which saved us a cool 4lb per car over the standard chromoly steel shafts. The slick little battery mount from Altronics, Inc fits right into the existing battery tray and makes mounting the smaller lithium battery a snap.
BRODIX and the Brotherton Family have long been advertisers on DRR since it's inception. We have always run BRODIX Cylinder heads on our cars and were one of the first to really push the SR20 Cylinder Heads on our cars. This year we stepped up the game and added, or should I say "removed" weight with their aluminum blocks in both cars.
Oakley Motorsports witch is run by the Father-Son duo of Phillip and Jay Oakley in Owensboro, KY came on board with our racing program in 2020 and return again with one of the 615 SR20 bullets for these builds. Phillip and Jay bring a wealth of knowledge and are always open to sharing that along with accommodating any of my crazy requests and we're proud have partnered again with them again this season.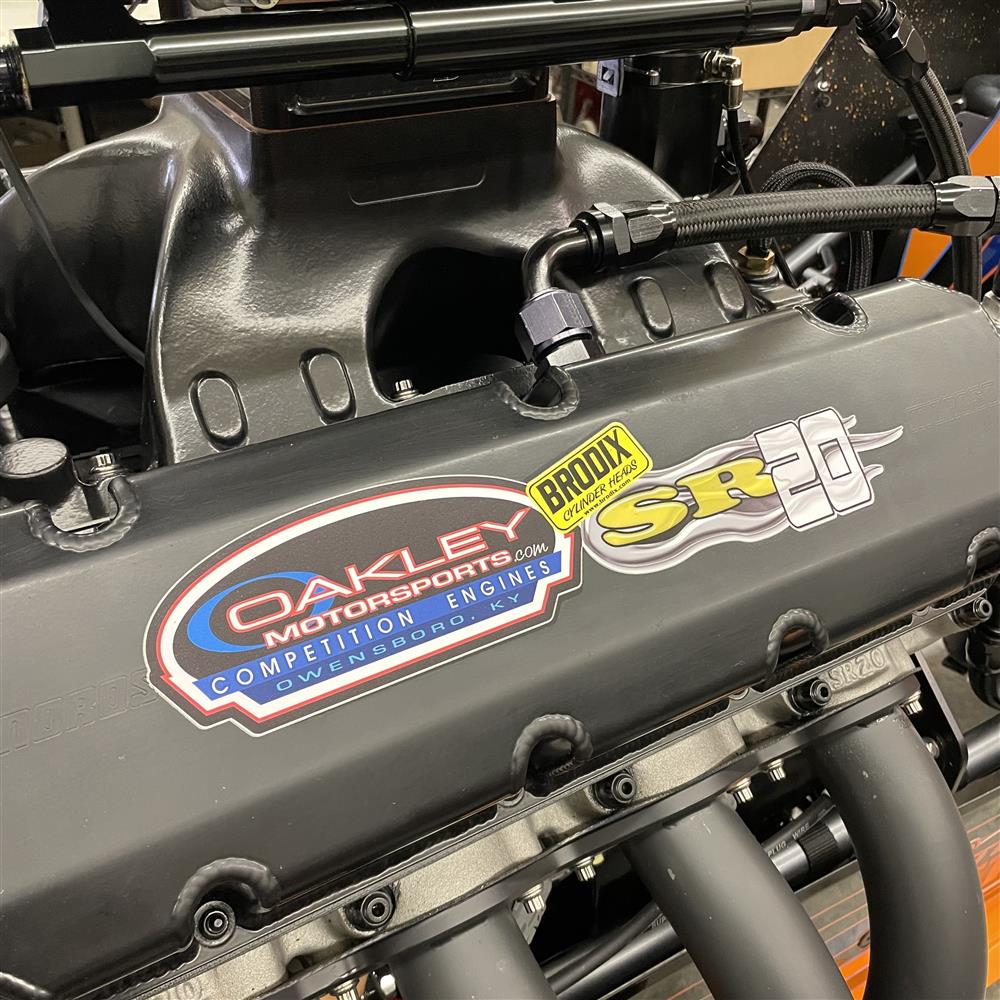 In 2015 We established a relationship with Huntsville Engine and Andy Anderson for our first 615 SR20. Since then we have built 3 more with them, improving every step of the way to where we are today. HEP has a great handle on the SR20 package along with other builds, but I'd say this is their "go to" for fast bracket dragsters and we're proud to have them return in 2023, providing what we need for one of our dragsters.
Up above you need to take a look at these Fab Shop headers. See anything different? Yup, turn ups! Bull Horns! What ever you want to call them, I'll never have a car without them again. Believe it or not, we can go all weekend without wiping off the headers. Stop by and check them out. Make sure when you order your next set from Mike, make sure to request them, it's amazing how clean they keep the cars and you won't be sorry!
Sitting atop the Brodix Manifolds on both engines are 2.400 Bore Billet Carbs from K-B Carbs out of Ohio. We've used carburetors from Karsten Blume since 2018 and couldn't be happier with his service and quality. We also use the APD Black Widow spacer along with their internal bypass belt drive fuel pumps on both cars.
The backside of the powerplant sometimes is overlooked, but in a bracket car there is nothing more important on the reliability side of things then the transmission. For that we've always relied on Abruzzi Transmissions for 15 years now. Like our other builds, we use Abruzzi's "Real Deal" Powerglide Transmissions housed by a Reid 2pc Case for additional strength and powder coated matte black for a super clean look along with a Drag Race Solutions' lift handle.
In 2020 I asked Greg Samuel at FTI to whip me up something that wasn't really ordinary at the time. Since then this combination has certainly been proven and perfected by Greg and his guys down in Florida and to say that I'm happy with it is an understatement! I've ran this converter in Las Vegas at 4k feet of corrected air and in Alabama at -1500 feet and it's been like a ZEROX anywhere we've been. It didn't have a part number back then, but I'm sure it does now. Give them a call and they'll know what you're talking about if you ask.
A nice close up of the Titan Ultra PG2 Electric Powerglide shifter by Drag Race Solutions in Matte Black. Drag Race Solutions parts are used throughout the build, including Dial In Board Brackets, Coil Mounts, Water Necks, Lug Nuts, Tethers, Allen Head Dzus and of course our "new" Titan Shifters!
More assembly photos which showcase the matte Misty Lava chassis, matte black accessories, brake handle and floor boards. We also chose the "Texas Built" PRO1 Pro Elite Series Seat Belts once again with their light weight hardware and color coordinated logos.
Although we chose not to run nitrous on these builds to start, we went ahead and had ARC install the mounts behind the blow shield just to have there in case we opted to add it at a later date. Oh... you didn't see the titanium hand brake rod!
Some of the products I'm extremely proud to run, not only because of the reliability and their dedication to excellence come from Meziere. I've been a customer since the early 1990's, raced with all 3 brothers and now their sons and have been wowed at how they've grown their company into what it is today. We use their WP136S Remote Water Pumps, their 139 Tooth Starters and Billet Flex Plates with no worries every time we pull to the lanes.
I could have had 15 pictures ore more of products from MOROSO on these builds as everywhere you look they are there and provide a solution for us that I think we as racers sometimes take for granted that they build. Valve Covers, Oil Pans, Vacuum Pumps, Transmission Pans & Dip Sticks, the list just goes on. We also use their Crank Case Catch Cans, Battery Charging Lugs and even their Oil Filters. Thank you Dick Moroso & team for 55 years of innovation!
The little black cube is small in stature but it provides a big punch. I've been a fan of the K&R Pro Cube for years because of it's size and laundry list of functions including the Z-force option. 100 percent made by family in Cleveland, Tennessee.
There's just something about "GAUGES" that's flat cool! We chose the Auto Meter Phantom II Tach and Gauges like we have many times before for the simple reasons of looks, reliability and functionality. Also notice the red low oil pressure lights in the dash which are hooked up to a sending unit on the back of the oil pressure gauge.
When Todd texted me this picture he said "This is the best ones you've done so far". I knew when he said that they we're going to look great. I've said it before and I'll say it again, there are some real good painters out there and not to take anything away from them, but "Todd Zeller is the man when it comes to laying down the colors on dragsters". Eddy Hollen took our brands and made them concepts, Todd brought them to life and we can't thank him enough!
They say to raise a family it takes a village. I totally agree, but I found it takes an army to build a race car and we couldn't have done it without so many great companies and relationships. I'm truly sorry this build drug on into the summer, but there are a lot of companies that are still behind due to supply issues, personnel and just flat out being busy and we feel it was worth the wait. I hope you enjoy seeing the behind the scenes in depth build as much as we know we will enjoy these hot rods! Stop by and see us if you're ever at a track that we're at, I'd love to show you them in person. Best of luck this racing season!
Please keep the companies involved in mind when your making upgrades or performing a new build this coming off season and remember you can click directly on the company logos for more info on their products.
My good friend, artist and painter Jeff Devy from out in Idaho whipped me out some hand painted cool ass tattoo hearts to put on the hoods of these cars. Megan and I get to drive them, but we take Nicole and CC with us every pass.
Chase & Rick Huffman at Accelerated Graphics always comes through with awesome numbers and name decals for us anytime we give him a shout with some wild idea. Keep them in mind for renderings, names, numbers and decals.
< < back > >