2023 World Footbrake Challenge - Complete Results
7/19/2023
Bristol, TN
Coalburg Racing Promotions returned to
Bristol Dragway
on Thursday for the
BTE
World Footbrake Challenge XVII to welcome a flock of eager footbrake racers. In response to the record number of pre-entrants, co-promoters Jared Pennington and Steve Stites adjusted the schedule and payouts prior to the start of the event.
The Thursday Gamblers Race would now pay $5,000-to-win instead of the advertised $3,000 purse, with additional money returning to racers throughout the weekend. After packing the pits with race rigs and campers, the racing surface would soon be filled with the finest footbrakers for a test-and-tune session before eliminations.
Drivers had only one shot to get it right during Thursday's Gamblers Race as there were no double entries nor buybacks to grant second chances. An impressive 335 entries staged up for the first round, but racers were rapidly trimmed down until only six remained. Those drivers included Tim Griffith, Shane Ayers, Rodney Finchum, Seth Lancaster, Devin Dudley, and Jock Greene.
Finchum runs two above his dial after a .008 reaction time to take the win over Griffith who breaks out five thousandths. Lancaster turns on the red light by .002 while Greene has an .024 total package on his way to the semifinal. Ayers also leaves the line too soon, while Dudley coasts across the finish line for the win.
In the semifinal, Dudley uses a starting line advantage to leave Greene mathematically ineligible while Finchum earns his spot in the money round courtesy of the bye run.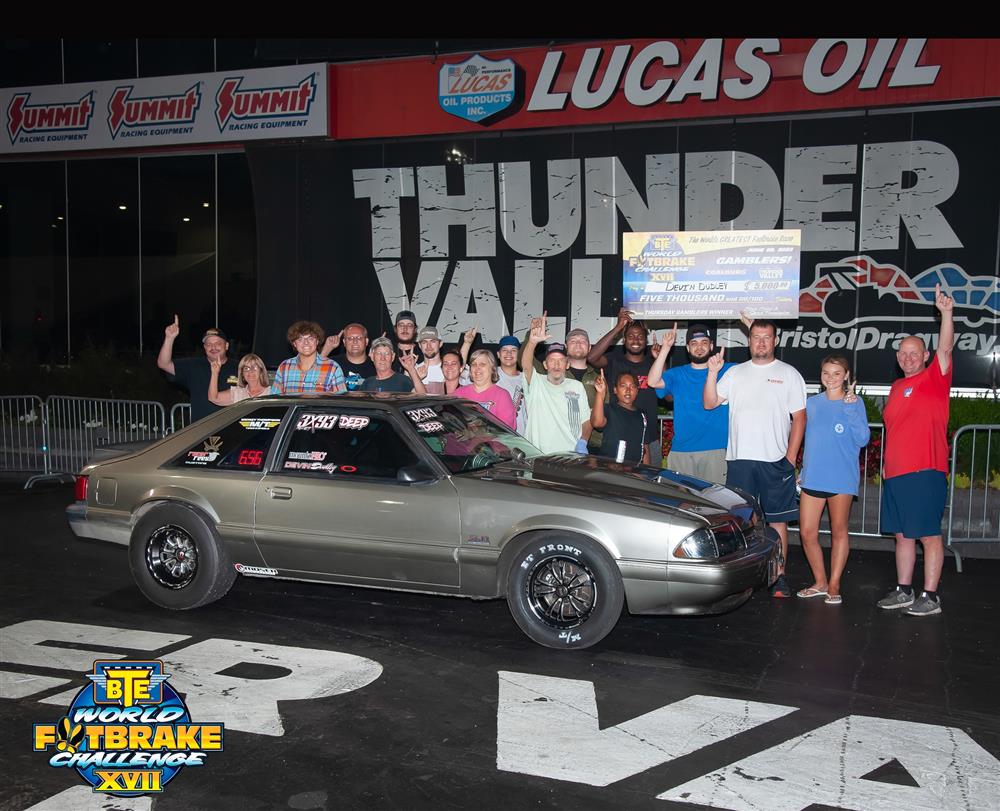 The first final round of the weekend came down to two racers who are very familiar with a winner's circle. Both drivers run one above their respective dials, but the .018 reaction time from Dudley awards him the .008 margin of victory over Finchum to collect $5K.
The ante only increases as the weekend continues with three more races on deck. Friday will begin with the one-and-only time trial session at 8:30 am sharp, followed by a $10,000-to-win Gamblers Race. $100 per entry will get you in the staging lanes and doubles are allowed, but there will be no buybacks.
Saturday and Sunday main events each boast a $25,000 payout where both double entries and buybacks are available.
An early morning thunderstorm delayed Friday's festivities at the
BTE
World Footbrake Challenge XVII, but when you're racing multiple days at
Bristol Dragway
, rain is nearly inevitable. Prepared with a jet dryer and some of the best staff in the country, the track surface was scraped and restored to ideal racing conditions.
Each driver was allotted one pass to get dialed in for the weekend before the monumental first round of eliminations began. The BTE World Footbrake Challenge XVII officially became the largest footbrake race in history as well as the highest car count in a single class at Bristol Dragway with 713 entries staging up for round number one. This shattered the prior WFC record of 551 entries that competed in 2020.
Coalburg Racing Promotions expressed their gratitude through not only their words but directly into racer's wallets. Co-promoter, Jared Pennington, announced that Friday's Gamblers Race winner would now take home $15,000 instead of the advertised $10,000 payout.
Pennington said, "Racers, you have done something simply incredible. On behalf of Steve [Stites], our staff, the folks here at Bristol, and our great sponsors, we can't say thank you enough. What an amazing response from the best group of racers on Earth. Footbrakers, you're absolutely amazing. We are so thankful for each and every one of you."
Eliminations were halted due to the 1 AM curfew after round four of Friday's Gamblers Race was complete. The remaining balance of 45 racers will pick back up after the fourth round of Saturday's main event.
Saturday gates and tech open at 8 am and only new entries will receive one time trial at 8:15 am. The first round of Saturday's $25,000 main event will immediately follow.
Only hours after welcoming a record-crushing car count, racers and staff returned to
Bristol Dragway
for day three of the
BTE
World Footbrake Challenge XVII. Another overnight rain shower dampened the scheduled start time, but it wasn't long before engines were heard roaring through Thunder Valley.
Saturday's $25,000 to-win main event eliminations held 625 entries in the first round and everything was going smoothly until mother nature returned to throw a wrench in the program. Almost instantly the mountain skies darkened, gusty winds took hold of canopies, and a downpour drenched the facility with approximately forty entries or so remaining in the re-entry round.
Luckily, the rain and clouds departed within the hour and the Bristol Dragway staff worked their magic to get the track back in shape by 7 pm. Unfortunately, with the remaining balance of entries for Saturday's $25,000 race estimated at around 467, a tough decision had to be made.
Co-promoters, Jared Pennington and Steve Stites went back to the drawing board and delivered Plan D (at this point) which labeled Saturday's event a wash-out. Re-entry money was refunded, and today's racers would now be running for a combined $50,000 to-win main event on Sunday. All advertised money including runner-up, semifinalist, and round money would double as will the buyback.
That brings us back to a racetrack ready for action and a balance of 45 entries leftover from Friday's $15,000 to-win Gamblers Race- which began with an unheard of 713 entries.
After picking back up with the sixth round, the field was quickly cut down to only six remaining drivers: Andrew Adkins, Todd McKinney, Kelly Stevens, Jesse Betterton, Cody Barnhart, and Scott Vaughn.
Adkins eliminated Vaughn with a .027 reaction time during a double breakout race when both drivers ran 1 thousandth under their dials. Betterton runs dead on his 6.34 dial, but the .019 red light ended his chances at the starting line while McKinney is .004 green for the win. Stevens is .011 red to send a coasting Barnhart into the semifinal.
The final three have each claimed Coalburg Racing Promotions big checks ranging from $10K to $15K and were just two win lights away from another one.
Adkins turns on the dreaded red bulb by 3 thousandths beside Barnhart who is .028 green to advance to the final round. McKinney's near-perfect prior reaction time earned him the bye run where he lays down a .004 package…because why not?
All eyes were on the orange Chevrolet Camaro wheeled by Barnhart and yellow AMC Spirit of McKinney as evidenced by the large crowd surrounding the waterbox.
As both cars launched with wheels in the air, McKinney held on to an .026 starting line advantage to take the win over a mathematically ineligible Barnhart. McKinney not only adds $15,000 to his pocket but overcame the highest car count in the history of Footbrake racing to claim the prestigious victory.
The always popular Two Round Challenge returned Saturday night in between late rounds of the Gamblers Race where drivers who illuminated two win lights would earn an entry into the BTE Labor Day $250K. Drivers who punched their ticket back to Bristol include Lucas Walker, Jake Clayton, Lee Zane, Jake Hodge, Brad Plourd, Jason Overstreet, Mitchell Seymore, Jason Overstreet, and John Dunn.
There is still one massive prize left to claim tomorrow during Sunday's $50,000 main event. Only new entries will receive one time trial at 8:45 am followed immediately by first round of eliminations. Before the on-track action begins, everyone is welcome to join the Sunday non-denominational church service at 8:15 am.
This year the
BTE
World Footbrake Challenge XVII attendees have encountered hot temperatures, two perfect runs, staggering car counts, summer thunderstorms, Footbrake Fast Facts, an oil down or two, and some of the best bottom bulb racing in the country. Racers and staff could be reasonably worn out on day four, but when the time came to get down to business everyone was ready and willing to get the job done at
Bristol Dragway
.
Just like every Coalburg Racing Promotions event, Sunday morning begins with a church service led by
Racers For Christ
. Afterward, new entries receive one time trial before the rest of the field goes directly into first round of eliminations, this time with $50,000 on the line.
The biggest purse of the weekend started with a healthy 502 entries which created an opportunity to crown a winner if blessed with perfect conditions. Remarkably, the race would be completed despite another rain shower, a top end oil spill, and the impending curfew - thanks to the hardworking track staff and hustle from our racers.
The quarterfinals would take place in the eighth round where six drivers had their eyes on that $50K prize: Tim Stuckey, Devin Dudley, Taylor Bowling, Brandon Bailey, Charlie Lockhart, and Nick Kay.
Bowling is .004 on the tree and puts together an .018 total package to leave Stuckey's .023 reaction time mathematically ineligible. Only 1 thousandth separated the drivers on the starting line, but Kay runs closer to his dial to take the .011 margin of victory over Bailey. The last pairing was a double breakout race where Lockhart's .013 and 2 thou under gave him the win over Dudley who was 9 thou under his dial.
In the semifinal, Kay is .011 red while Lockhart is .014 green to take the win. Bowling coasts through his bye run to save his ride for the final round.
With 15 minutes to spare before the 1 am curfew, the two finalists roll into the water box where $50,000 was only one win light away. Bowling was obviously determined to find himself in the Bristol Dragway winner's circle since he was .006 and dead on with a six for the win over Lockhart, who breaks out 8 thousandths.
After the winner and runner-up interviews were complete, Devin Dudley was presented with the first Mike Mo MVP award after an incredible performance throughout the WFC XVII. Dudley won Thursday's $5,000 Gamblers Race, went rounds each day, and was still double entered at 23 cars in today's $50K before losing his last entry in the quarterfinals.
This award is in remembrance of the late Mike Moore, Jenny Pennington's father, who was planning to make his first trip to the WFC this year. Mike Mo, as he was affectionately called, was known for his kind smile and a heart that was as big as the cowboy hat on his head. The Coalburg Racing Promotions staff will continue to recognize a racer each year with exceptional performance and personality through the Mike Mo MVP award.
The BTE World Footbrake Challenge XVII has been one to remember with a record-high attendance and the first $50,000 payout since 2008. We said hello to many first-time WFC racers and were able to spend time with racers that we see every year.
Coalburg Racing Promotions will return to the beautiful Bristol Dragway in eight short weeks for the BTE Labor Day $250K. Thank you to all the racers, sponsors, staff and families for their support. As always, the racers are what make this race so special.
Winner's circle photos courtesy of
Holloway Saunders Photography
-
BME Photography
< < back > >